Start of Sacred Places expedition
Date: 1 Jan 2010
Sacred Places - Watercolour Diaries from the American South West
All societies need to express their reverence for extraordinary places.
Tribal societies express it through their religious practices and ceremonies. Our own, more secular society, expresses it by designating National and State Parks, National Forests and Monuments, thus rendering them sacrosanct. It could be argued that the Environmental Movement is the secular means by which we express our need to honour the Earth.
The American South West encompasses many places of extraordinary resonance and beauty. Many of these have been declared sacred by Native American Tribes, Christian or other Religious Communities. Others are protected by Federal and State Government law.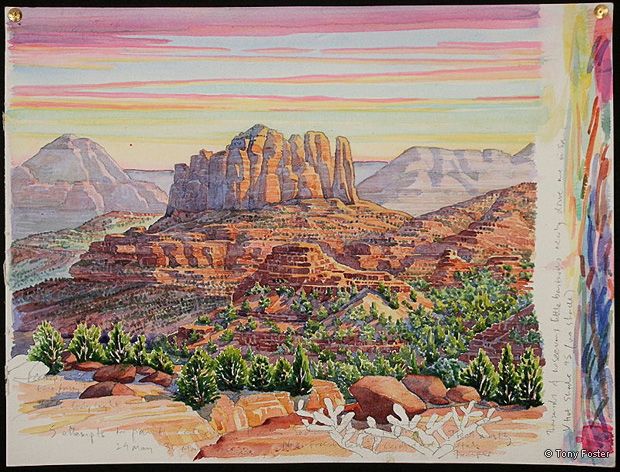 This exhibition will be my personal response to these lands. Through a series of journeys - sometimes on foot or raft, sometimes in a vehicle - I will explore what makes these places special. Oftentimes my focus will coincide with accepted definitions of sacred places but as an artist this will necessarily be a personal odyssey. My search for inspiration will always take priority over any rigid definition. At times I may find sacred places of my own.
I have already spent eight weeks in the South West working on this project and anticipate returning for similar periods in the Autumn of 2010 and Spring of 2011. I will be working in Native American Reservations, Private and Public land holdings, and National and State Parks.
I am aware of the carbon footprint involved in these journeys. In order to mitigate the effect of my airmiles I will donate the equivalent of the full cost of each flight (this is a considerably greater contribution than that proposed under the many "carbon offsetting" schemes) to Rainforest Concern - a UK charity involved in protecting and purchasing threatened areas of rainforest.
In order to help explain the history and meaning of the places where I will be working, a Curator will be appointed who will draw on Museum and Private Collections to loan works of art and craft which relate to the places I have chosen to work. We hope to exhibit pieces from prehistory to the present day. In this way I shall explore our common relationship to the earth, and the way we express reverence for particular places.
The Exhibition will show at the Gerald Peters Gallery, Santa Fe, in June/July 2012. It is hoped it will then tour to Museums and other Commercial Galleries.
Tony Foster
Cornwall
July 2010