January 2019
As I enter my 73rd year, it occurs to me that if I had any common sense, I should be taking it easy. Ann keeps telling me to, but the trouble is I still find inspiration and huge satisfaction in making my paintings, so I don't think I will be hanging up my walking boots anytime soon!
With four different exhibitions of my work opening in America this year the prospects are very exciting. I want to tell everyone on my mailing list about them, in the hope that you will get the chance to see the work.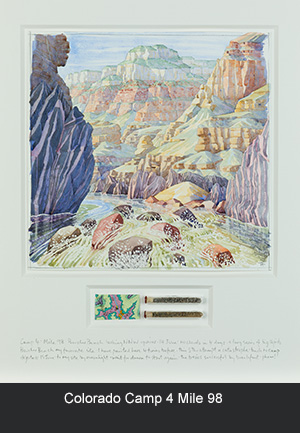 May 30 – August 29 2019
Yale Center for British Art, New Haven, Conneticut
Recently acquired a set of six paintings, entitled Heraclitus III, executed in 2017 on my third trip down the Colorado through the Grand Canyon.
To showcase this acquisition the exhibition Tony Foster: Watercolour Diaries, Cornwall to Colorado, curated by Duncan Robinson, former director of the Yale Center for British Art and the Fitzwilliam Museum, and Elisabeth Fairman, Chief Curator of Rare Books and Manuscripts, will include artworks from my first exhibition at the Center (1985), as well as work painted in 2018 for my upcoming major project About Time.
The title of the Yale acquisition Heraclitus III was inspired by the philosopher's statement "no person ever steps in the same river twice". As a river is ever changing, so are we all. I have certainly changed from the sprightly fellow who first worked in the Canyon in 1989 !
June 8 – I will be "in conversation" with Duncan Robinson as part of the two week "Festival of Arts and Ideas" in New Haven.
I am deeply grateful to Duncan Robinson, Jane Woodward and the Foster Art and Wilderness Foundation for their help in making this acquisition by Yale possible.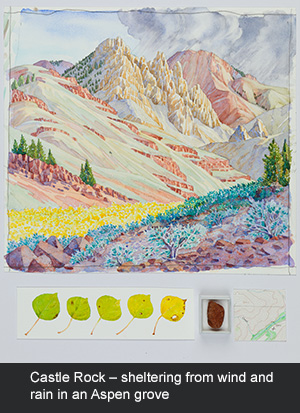 June 14 – July 29 2019
Gail Severn Gallery, Ketchum, Idaho Tony Foster Watercolour Diaries: Great Basin & Copper Basin.
During the summer of 2018 I returned to one of my favourite places to paint - The Rocky Mountains. I spent a few weeks camping, wandering and painting in Idaho's Copper Basin, a wilderness area with spectacular views of the Pioneer Mountains.
The exhibition will include 12 new works, all of which will be for sale.
As my contribution to the major project Mirage: Energy and Water in the Great Basin, organised by The Sun Valley Center for the Arts, my diptych, A Walk Across Death Valley, chronicling one of my most difficult hikes in 1991, and a painting of the White Mountains in California, the lowest and highest points respectively of the Great Basin, will be included in my show at Gail Severn Gallery.
July 5 – Gallery Walk
July 6 – Artist's Talk – both open to the public at Gail Severn Gallery.

June 24 – July 1 2019
With a handful of Idaho-based companions, I will raft the Green River, Utah from the Gates of Ladore to Split Mountain. During the journey I will begin a series of paintings that reflect not only the river as it exists today but also reveal it as a repository of fifty million year-old fossils.

July 9 – July 17 2019
Buffalo Bill Center of the West / Whitney Western Art Museum, Cody, Wyoming
I will be Artist in Residence, working to complete the Green River paintings. During my tea breaks I will take time out to explain my approach and process to museum visitors. The Buffalo Bill Center of the West is one of the country's premier institutions presenting, preserving and researching art and artefacts of the American West. An exhibition of my earlier paintings will be on display, curated by Karen McWhorter, Scarlett Curator of Western American Art at the Whitney Museum.

October 11 – February 9 2020
Tucson Museum of Art, Tucson, Arizona
Works from Arid Lands, my fifth project (1996), will be included in The Western Sublime: Majestic Landscape Paintings of the American West.

November 16 2019- February 17 2020
The Museum of Northern Arizona, Flagstaff, Arizona
The museum has reunited the majority of the paintings from my twelfth project, Searching for a Bigger Subject (2008), and will present them to celebrate the centennial anniversary of the Grand Canyon's designation as a National Park.
The exhibition was created to "contrast the world's two most powerful subjects – Mt Everest and the Grand Canyon". It was shown in the Royal Cornwall Museum, Truro; the Royal Watercolour Society, London; Gerald Peters Galleries in New York, Dallas and Santa Fe and Phoenix Art Museum.

Film
Award winning documentary film-maker, David Schendel, intends to make a full-length documentary about me and my work. "Tony Foster Journeys" production will start in June 2019. He has gained the support of the Redford Center (Robert Redford's organisation) and is now fund-raising. If you would like to make a donation / investment towards the cost of making the film, your donation could be very tax efficient. For details go to: https://redfordcenter.org or contact schendelfilms@gmail.com
"Angels" who offer $5,000 will receive a specially created limited-edition print signed by me and David.


New Major Project
I have been working on my next major project "About Time – Watercolour Diaries from Hours to Aeons" and have completed ten paintings, but don't envisage the exhibition ready to show for two or three years. I will be publishing the "prospectus" for this philosophical and thought-provoking show on my website: www.tony-foster.co.uk in the near future.




The Foster Art and Wilderness Foundation
None of the above would have been possible without The Foster Art and Wilderness Foundation. They have provided steadfast financial and professional support in pulling together this bumper year of frenetic Foster related activities.
In addition to lending paintings and helping to facilitate the exhibitions, they have grown into a significant public art venue last year welcoming over 6,500 visitors. The Foster presents Sacred Places and Exploring Beauty as well as an overview exhibition of all my journeys. Visitors come to see the art and attend lectures including My Journey with Tony, a series presented by travelling companions and advisors, or the Artist Explorer series presenting the work and perspective of other artists. Students and teachers come for exhibition tours and adults are welcomed to watercolour and journal making classes. The beautiful space also serves as a venue for the regional community, welcoming environmental groups for meetings and social gatherings.
I hope you will visit The Foster, 940 Commercial Street, Palo Alto CA 94303 USA . You are assured of a warm and friendly reception ! If you are not already on their mailing list, please join. The newsletters announce events at "The Foster" and the website provides links to video recordings of the lecture series. Visit their website: www.thefoster.org
Good Luck for 2019! I hope our paths will cross.
February 2017
Exploring Beauty – Watercolour Diaries from the Wild will be previewing at The Foster Art and Wilderness Foundation, 940 Commercial Street, Palo Alto, CA, on 4/5th March 2017. All welcome. Open by appointment from March 6th 2017.
For more information please visit thefoster.org
August 2016
Exploring Beauty – Watercolour Diaries from the Wild is now showing at Royal Cornwall Museum, Truro until 12th November.
The exhibition will then open at The Foster Art and Wilderness Foundation, Palo Alto, California in early March 2017.