News Archive
Previous Exhibitions
September 2019
October 11 – February 9 2020
Tucson Museum of Art, Tucson, Arizona
Works from Arid Lands, my fifth project (1996), will be included in The Western Sublime: Majestic Landscape Paintings of the American West.

November 16 2019- February 17 2020
The Museum of Northern Arizona, Flagstaff, Arizona
The museum reunited the majority of the paintings from my twelfth project, Searching for a Bigger Subject (2008), and presented them to celebrate the centennial anniversary of the Grand Canyon's designation as a National Park.
The exhibition was created to "contrast the world's two most powerful subjects – Mt Everest and the Grand Canyon". It was shown in the Royal Cornwall Museum, Truro; the Royal Watercolour Society, London; Gerald Peters Galleries in New York, Dallas and Santa Fe and Phoenix Art Museum.

Exploring Beauty - Watercolour Diaries from the Wild
February 2017
Exploring Beauty – Watercolour Diaries from the Wild will be previewing at The Foster Art and Wilderness Foundation, 940 Commercial Street, Palo Alto, CA, on 4/5th March 2017. All welcome. Open by appointment from March 6th 2017.
For more information please visit thefoster.org
Exploring Beauty – Watercolour Diaries from the Wild
August 2016
Exploring Beauty – Watercolour Diaries from the Wild is now showing at Royal Cornwall Museum, Truro until 12th November.
The exhibition will then open at The Foster Art and Wilderness Foundation, Palo Alto, California in early March 2017.
Exploring Beauty - Watercolour Diaries from the Wild
May 2016
My new Exhibition "Exploring Beauty – Watercolour Diaries from the Wild" opened at the Royal Watercolour Societies, London gallery on June 9th.
The Foster Art and Wilderness Foundation
January 2016
The most exciting development in my career was launched at the end of February 2016 - The Foster Art and Wilderness Foundation opened its doors.
Conceived by a long-term friend, collector and patron, the Foundation mission is: "to share artist explorer Tony Foster's powerful exhibitions of watercolour journeys to inspire reflection, discussion, and education about art, wilderness and the natural world".
The Foundation's beautifully designed space at 940 Commercial St, Palo Alto, California opened with my complete exhibition "Sacred Places from the American Southwest", alongside groups of works from many of my earlier series and contextualising materials.
Exhibitions can be viewed by appointment Monday through Friday. Please contact the Foundation for details at info@thefoster.org.
For more information please see the Foundation's website at thefoster.org .
New Major Project 2016
January 2016
Exploring Beauty - Watercolour Diaries From The Wild
by Tony Foster
Beauty: (n) The quality that gives pleasure to the sight or aesthetic pleasure generally; a particular grace or excellence; a fine specimen of its kind.
My new exhibition is entitled "Exploring Beauty - Watercolour Diaries From The Wild". It opened with a solo show at the Royal Watercolour Society, London on June 8th 2016 before travelling to Royal Cornwall Museum, Truro, UK and is now showing at the Foster Art and Wilderness Foundation, Palo Alto.
In it I hope to promote the idea that making art which is philosophically positive and beautiful about some of the world's most extraordinary places is an acceptable practice for a Contemporary Artist. I want to provoke a discussion about the nature of beauty and our varied perception of it, and why making beautiful objects is not longer a part of the artist's required skill-set.
In order to help identify the subjects for my paintings I asked Luminaries to nominate what they consider to be the most beautiful example in their field of expertise. I travelled to their nominated destinations, and made major works about their chosen subjects. . As befits the importance of the subject I have made the largest paintings I (or anybody else) have ever made on site – up to 7ft x 4ft.
I received varied and fascinating suggestions from:
Denali : Dr Winslow Briggs, Director Emeritus of the Carnegie Institute of Plant Biology , Stanford University.
The Grand Canyon : Dr Bill Brace (1926 - 2012) Chairman Emeritus of the Dept of Earth and Planetary Sciences, MIT.
Mulu, Borneo ; Robin Hanbury Tenison, Explorer.
Borneo Rainforest: Professor Sir Ghillean Prance, former Director Kew Botanical Garden.
The East Face of Everest looking down the Kama Valley : Stephen Vanables, climber.
Machapuchare: Annie & Bill Vanderbilt – writer and adventurers.
Maldives Sunsets : Ann Foster
New England Fall Colour : Peggy Brace, environmental campaigner / Massachusetts Democrat of the Year 2014.
Parinacota, Chile : Professor Steve Sparks, Chairman of the Geological Society and winner of the Vetlessen Prize 2015.
Atacama Desert Chile ; Professor Maria Teresa Ruiz, Professor of Astronomy, University of Chile.
Wistmans Wood, Dartmoor : John Halkes, former Chairman Friends of the Earth UK , gallery director and Parish priest.
Mont Blanc: Lionel Wibault, Senior Chamonix Guide and artist.
Icebergs in Greenland : Kari Herbert, early Northern Greenland resident – daughter of Sir Wally Herbert.
A View across the Wash from Norfolk : Sir Andrew Motion, former Poet Laureat.
Places I can walk to form my own back door : Tony Foster
As a contrast to places of global renown I also made a group of works about places I can walk to from my home in Cornwall, as evidence that beauty can be found on ones own doorstep.
This exhibition is necessarily my subjective personal response. Although beautiful, it is NOT an exhibition of sentimental clichés. I hope it will lead to debate and discussions about the nature of beauty in the 21st century, and its place in Contemporary Art.
Tony Foster
Cornwall
Spring 2016
Beauty is the most dangerous idea in art …. (it) has been worshipped as the highest artistic value and denigrated as a pagan temptation. (Jonathan Jones).
Showing with Leonardo
January 2015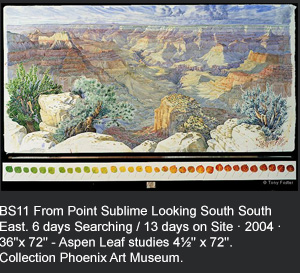 I'm delighted and honoured that my major painting ' From Point Sublime Looking South South East - 6 Days Searching / 13 Days on Site ' is included in Phoenix Art Museum's marvellous exhibition 'Leonardo da Vinci's Codex Leicester and the Power of Observation'.

Their exhibition presents the original 72 manuscript pages of Leonardo's codex and puts them in the context of other artists who have been influenced by his curiosity, direct observation and thinking on paper.

Included in the exhibition are works by artists who share aspects of Leonardo's practices - Claude Monet, Gustave Courbet, Ansel Adams, Edward Weston, Eadweard Muybridge, Harold Edgerton, Kiki Smith, Bill Viola and Tony Foster.

If you happen to be anywhere near Phoenix during the exhibition ( January 24 - April 12 2015 ) don't miss it !Phoenix Art Museum exhibition: 'Leonardo da Vinci's Codex Leicester and the Power of Observation'
January 24th - April 12th 2015

Phoenix Art Museum
1625 North Central Avenue,
Phoenix, AZ 85004
http://www.phxart.org
Exhibition and lecture in New York
February 2014
Two of Tony Foster's Everest paintings will be included in the exhibition "Time Frames Marking Time" at the West Beth Gallery, New York City, May 24th to June 15th 2014. He will deliver his lecture "Paining Everest" Weds 11th June in the evening.
Sacred Places Exhibition
May 2013
Sacred Places, Watercolour Diaries from the American Southwest opens at the Museum of Northern Arizona (MNA) in Flagstaff and to the public on Sunday, June 16 through Sunday, October 13, 2013. Early viewing with the artist and exhibit curator will take place at MNA's 7th Annual Gala on Saturday, June 15 and the Brunch and Curator's Reception on Sunday, June 16.
A slideshow lecture by Tony Foster titled "Into the Wild―Painting Sacred Places" will take place on Sunday, June 16 at 2 p.m. The artist will talk about sacred places in this region and hiking into them. The lecture is open to the public and is included with Museum admission.
Museum Director Dr. Robert Breunig said, "Foster's works of art are visual poems that give form to the feelings and thoughts that the beauty of the Colorado Plateau inspire. They clearly illustrate the geographical and geological diversity that marks a journey in any direction across the Plateau Province, as John Wesley Powell called it. Tony Foster's paintings of sacred sites on the Colorado Plateau speak to the richness of the human experience here, the beauty and complexity of the natural world, and the ways in which humanity has given meaning to those places."
For more information please see the museum's website.
Hot and Wet / Hot and Dry
April 2013
Painting Rainforests and Deserts
An Illustrated talk by Tony Foster
Royal Geographical Society Lecture
Thursday 16th April 2013 at The Town Hall, Boscawen St. Back Quay, Truro TR1 2LL
Admission free
Book optional meal afterwards with organiser Guy English Tel 01326 379029e
Hot and Wet / Hot and Dry
March 2013
Painting Rainforests and Deserts
An Illustrated talk by Tony Foster
Saturday, 9th March at 7.30pm at Tywardreath School.
Tickets £6 (£4 under 14s)
From Tywardreath Londis Stores, Martin Beck (01726 814193), or Tony Foster (01726 815300)
In aid of Tywardreath Church Clock Appeal and the Pico Bonito Fund
Lectures in Cornwall
December 2012
Fowey Royal Yacht Club
Wednesday 5th December 2012 at 8.00pm, Royal Fowey Yacht Club, Fowey
"Hot and Wet – Hot and Dry – Painting Rainforests and Deserts".
In aid of Escuela y Clinica Tony Foster in Honduras. All welcome.
Royal Geographical Society
Thursday 16th April 2013 at 7.00pm in Truro Town Hall
"Hot and Wet – Hot and Dry – Painting Rainforests and Deserts".
All welcome. Book with Guy English on telephone: 01326 379029
Phoenix Art Museum Exhibition
November 2012
Tony has completed two new paintings for the prestigious fundraising exhibition "West Select". Neither painting has been shown before.

A major painting - "Seven Days by Havasu Creek – Navajo and Fifty Foot Falls · Looking West Southwest" records Tony's time spent in one of the most beautiful places on earth. It is unique because the Havasupai Tribe rarely grant permission for professional painters, photographers or film makers to work in their territory.

The smaller painting – "Looking North from Between Yaki Point and Shoshone Point" was begun on site in 2008, but not finished until 2012.

The exhibition opens on Sunday 11th November 2012.

Looking North from Between Yaki Point and Shoshone Point

26" x 19"

Seven Days by Havasu Creek – Navajo and Fifty Foot Falls · Looking West Southwest

49" x 41" (framed size)
French TV programme
November 2012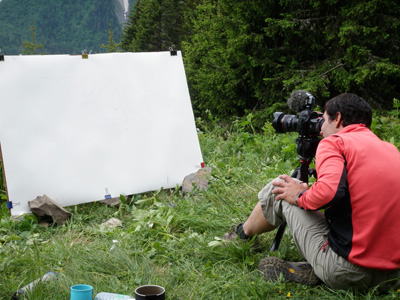 Eliocom, a French production company, invited Tony to paint in the Alps for a new 60 minute documentary "Artists d'en Haut".
Tony chose a location with a dramatic view of Mont Blanc and spent a week working on site, the film crew following his every move.
They will travel to Cornwall to film the completion of the work in September. The film will be shown on French TV in November 2012.
The finished painting of Mount Blanc (36" x 53") is shown below.
New project: Beauty - the Last Taboo
October 2012
Tony has started planning his major new project "Beauty – the Last Taboo". Read more in Tony's prospectus for this project:
Beauty – The Last Taboo
Watercolour Diaries from Wild Places
In 1983 I was in New York attempting to find a gallery to represent me. Ronald Feldman, a potent force in Contemporary Art, took some of my paintings home to consider for the weekend. At our subsequent meeting he told me "I've really enjoyed having these around, but I've decided that I can't represent you – the work is just too beautiful".
In Contemporary Art, where Artists are free to tackle any subject – violence, decay, conflict, pollution and death – I realised that beauty had become the last taboo.
In her essay "The Nature of Beauty in Contemporary Art" Suzi Gablik writes: " The critic Hilton Kramer is in the forefront of those who believe that when art is actively engaged with the world, its aesthetic quality is necessarily compromised. I, on the other hand, consider that such art is often intensely aesthetic because it is responding compassionately to whatever it touches, it is helping to create a more beautiful world. Artists whose work helps to heal our soulless attitudes towards the physical world have my full respect and attention because, for me, beauty is an activity rather than an entity, a consciousness of, and reverence for, the beauty of the world".
This is a fertile area for debate. One seldom sees an exhibition which engages with the subject of Beauty, yet there is a great thirst for work that is positive and life enhancing. I believe that beauty resonates with the viewer at a deep level and can carry as dynamic and philosophically relevant a message as art that attacks, shocks or disturbs. Perhaps now is the time to foreground the positive.
My work for the past 30 years has run counter to the mainstream. It is figurative, narrative, personal, philosophically committed, politically engaged, and often beautiful.
I work in the world's wildernesses – mountains and canyons, rainforests and deserts, the Arctic and the tropics. I make large-scale works on site in some of the world's most bleak and hostile environments. I have always found in them subjects of great beauty. I incorporate my findings into thematic exhibitions which are staged in museums and galleries in the UK and USA.
In this exhibition I intend to make a series of ambitious paintings. They will be some of the largest I (or anyone else) has ever produced on site – up to 8ft x 4ft. Some will be of subjects internationally accepted as beautiful – Machapuchari in the Nepal Himalaya (agreed by climbers to be the most beautiful mountain in the world); Iguazu Falls (Brazil / Argentina); Autumn Colours in New England; Mt Kailas (Tibet); Arctic Icebergs; Coral Reefs. I will also make a group of works from places I can walk to from my home in Cornwall – evidence that beauty can be found on ones own doorstep.
So far, so predictable, perhaps. But in order to challenge both myself and the viewer I also intend to create a group of works that will address subjects outside my "normal" spectrum. Places that would be considered ugly but where beauty can sometimes be found – Los Angeles at night painted from the hills above; the salt ponds in the Great Salt Lake, Utah; the vast Cornish clay pits.
To prevent this exhibition from being wholly subjective I also intend to invite four well known luminaries in their respective fields – a poet, musician, naturalist and philosopher – to nominate their most beautiful place in the world. I will undertake to work on their chosen site and attempt to see beauty through their eyes.
As with all my exhibitions, the paintings will not merely be renderings of scenery. They will be the result of long engagement, research, and living with my subject. They will incorporate symbolic objects, talismans, maps and notes: and will comment on the political, social and religious milieu in which they are made. Although beautiful, it will not be a group of nicely painted sentimental clichés.
The exhibition will be complete by Spring 2015. My aspiration is that it will open in Britain before showing in US museums and Gerald Peters Galleries in New York and Santa Fe.
Tony Foster
Cornwall September 2012
Exhibition purchased in its entirety
June 2012
Sacred Places: Watercolour Diaries from the American South West
The complete exhibition of 32 paintings was acquired by a private collector motivated by a desire to maintain it intact for donation to a Foundation or Museum (yet to be named).
Gerald Peters Gallery is currently working to establish a small tour for the whole show before it finds its permanent home.
See pictures of the installation at Gerald Peters Gallery below.
'Sacred Places' Exhibition opening
April 2012
Tony Foster's new exhibition 'Sacred Places - Watercolour Diaries from the American Southwest', the result of 30 months work, opens at Gerald Peters Gallery, 1011 Paseo de Peralta, Santa Fe, New Mexico, NM87501 on Friday May 18th and will run until July 14th.
An informal talk and Gallery walk-round will take place at 3.30 pm on 18th May, followed by the Opening Party from 5 - 7pm.

The complete Sacred Places exhibition has been acquired by a private collector, motivated by a desire to maintain the exhibition intact for donation to a museum or foundation yet to be named.
Article by Ann Japenga 2011
February 2011
Former Los Angeles Times reporter Ann Japenga has posted an appreciative article about Tony's early work entitled Tony Foster: Icebergs and Ocotillo
Tony Foster: Icebergs and Ocotillo
By Ann Japenga
Tony Foster lives in Cornwall, England, surrounded by the sea, and breaks for tea every two hours when he's out painting. Can this man truly be called a desert artist?
A Smoketree painter he is, for our purposes. Not only because he has painted Mt. San Jacinto from atop the Joshua Tree hills, but because he lives by the rules that governed the early desert painters:
Go on foot.
When you get there stay awhile.
When I first saw a book of Tony Foster's enormous watercolors (Painting At the Edge of the World) at a gallery in Santa Fe I was stunned that I'd never heard of him. But many art followers have not. Here's a fellow who has tramped the world's great wildernesses for almost 30 years, keeping watercolor diaries along the way. He's been too busy for a lot of self-promotion.
As I turned the oversized pages, I found intricate renderings of familiar landscapes including Anza Borrego, Death Valley and Joshua Tree. It was obvious Foster had lingered in each place. He was an instant hero of mine.
When I heard he would be returning to the Southwest for his latest project I wanted to know more and sent him an e-mail. Foster's wife, Ann, replied from Cornwall, saying Tony was in New Mexico. Soon I was talking to the artist on his cell phone. He was wrapping up nine days of camping in El Malpais, where he had painted through downpours and a blizzard.
His southwest journey this spring will be a personal odyssey like all the others, in search of something he hasn't completely defined yet. He'll be rafting the San Juan river in Utah, canoeing Lake Powell to paint Rainbow Bridge, then trekking to the Muley Point overlook to paint a large view of Monument Valley. If we're lucky, something will draw him to the California desert.
Foster has often been compared to the great expedition artists of the early West - men like Thomas Moran, who made some of the first paintings of Yellowstone, and Baldwin Mollhausen, who made watercolors of the California desert on a US Army expedition in 1858. "All art is about exploration," Foster once wrote. "Cezanne was exploring apples when he made those great still-lives."
Hiking as many as 12 or 14 miles a day, Foster carries two playing-card-sized watercolor paint boxes. Metal tubes hold the paper he uses to create his paintings, which are as large as 6 feet. He keeps an expedition log and incorporates notes on weather, geology and moods in the paintings. His work is also annotated with feathers, pouches of volcano dust, packets of seeds and other found objects.
Foster has been everywhere grand—the Himalayas (There's a documentary about his work there: The Man who Painted Everest), the Maldives, the Andes, the Grand Canyon, Okefenokee swamp and the Greenland icebergs. In the manner of the great landscape painters of the early West, he's always seeking to protect the places he paints.
He's a fellow of the Royal Geographic Society, a distinction given to the world's great explorers. He's been dropped into volcanoes, and retraced the routes of Lewis and Clark. Yet he doesn't have the mentality of an action adventure hero. "I never believe in conquering mountains," he once said. "You might manage to scramble up one but it doesn't mean you conquered it."
The real struggle, of course, is always with himself. He is given to storms of doubt about his work. In his desert travels, the struggle sometimes involves seeing what there is worth painting. Like most people who didn't start out in arid landscapes, he is undoubtedly used to more green and more drama.
There are added difficulties traveling in the desert. He must lug 8 lbs of water a day and watch his watercolors evaporate on the paper. Sometimes he tosses a shirt over a creosote bush to make enough shade to paint in.
Once the logistics are worked out, though, the artist's task never varies: "I see nobody. I paint. I walk all alone."
Foster's recent Southwest watercolors will be displayed at Gerald Peters Gallery in Santa Fe in June and July of 2012, in an exhibit called "Sacred Places: Watercolour Diaries from the American South West".
Lecture Series at Stanford University
February 2011
In September 2010 Tony was invited by Stanford University, California, to give a series of lectures to celebrate the dedication of a collection of his works being installed in Stanford's new Y2E2 faculty lounge.
This extraordinary sustainable building gathers under one roof ecologists and economists, biologists and legal scholars, earth scientists, engineers and policy analysts in order to create a breeding ground for new collaborations. It could not be a more appropriate setting for a group of Tony's artworks.
Download Tony Foster at Stanford PDF
Start of Sacred Places expedition
January 2010
Sacred Places - Watercolour Diaries from the American South West
All societies need to express their reverence for extraordinary places.
Tribal societies express it through their religious practices and ceremonies. Our own, more secular society, expresses it by designating National and State Parks, National Forests and Monuments, thus rendering them sacrosanct. It could be argued that the Environmental Movement is the secular means by which we express our need to honour the Earth.
The American South West encompasses many places of extraordinary resonance and beauty. Many of these have been declared sacred by Native American Tribes, Christian or other Religious Communities. Others are protected by Federal and State Government law.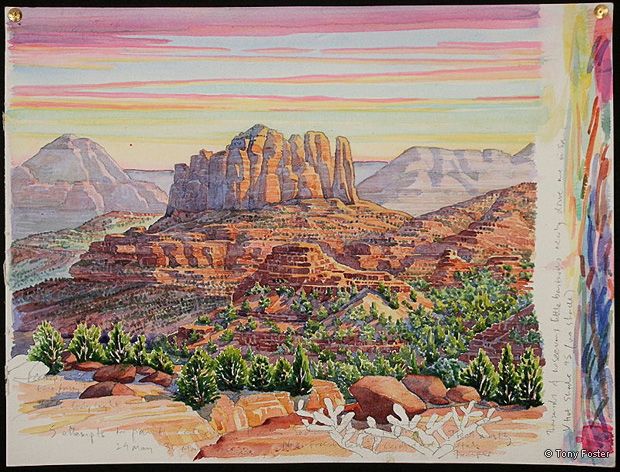 This exhibition will be my personal response to these lands. Through a series of journeys - sometimes on foot or raft, sometimes in a vehicle - I will explore what makes these places special. Oftentimes my focus will coincide with accepted definitions of sacred places but as an artist this will necessarily be a personal odyssey. My search for inspiration will always take priority over any rigid definition. At times I may find sacred places of my own.
I have already spent eight weeks in the South West working on this project and anticipate returning for similar periods in the Autumn of 2010 and Spring of 2011. I will be working in Native American Reservations, Private and Public land holdings, and National and State Parks.
I am aware of the carbon footprint involved in these journeys. In order to mitigate the effect of my airmiles I will donate the equivalent of the full cost of each flight (this is a considerably greater contribution than that proposed under the many "carbon offsetting" schemes) to Rainforest Concern - a UK charity involved in protecting and purchasing threatened areas of rainforest.
In order to help explain the history and meaning of the places where I will be working, a Curator will be appointed who will draw on Museum and Private Collections to loan works of art and craft which relate to the places I have chosen to work. We hope to exhibit pieces from prehistory to the present day. In this way I shall explore our common relationship to the earth, and the way we express reverence for particular places.
The Exhibition will show at the Gerald Peters Gallery, Santa Fe, in June/July 2012. It is hoped it will then tour to Museums and other Commercial Galleries.
Tony Foster
Cornwall
July 2010
Painting at the Edge of the World - the Watercolours of Tony Foster
January 2010
The book, Painting at the Edge of the World, has attracted considerable publicity, having been widely featured in magazines and newspapers world-wide.
Tom Nolan, Wall Street Journal: "A comprehensive representation of his extraordinary oeuvre ... rich with entries from the artist's travel diaries which are almost as vivid as Mr Foster's spoken accounts of his adventures".
Prof. John Haldane - The Art Book: "A very substantial and beautifully produced book... his is a trail well worth following".
Alex Wade, The Times, London: "His willingness to endure discomfort in the creation of bold and dramatic watercolours has made him a highly collectable artist".
Larry Cox, King Features Syndicate: "Foster's new book is much like the sites he visited - breathtaking".
Copies of Standard, Limited and Collectors Editions are available.
Book Launch in London 2008
July 2008
Painting at the Edge of the World, The Watercolours of Tony Foster
The launch of Tony Foster's book, Painting at the Edge of the World, The Watercolours of Tony Foster, was opened at The Royal Watercolour Society (RWS), Bankside Gallery, London, UK on 2 July 2008 by Professor Duncan Robinson, Master of Magdalene College, Cambridge.
The gallery is sited on the Thames just up-river of the Tate Modern and the Millennium Footbridge.
Bankside Gallery Chairman, John Thirlwell, spoke of the nearly two hundred years of the RWS and how it was set up as a break-away from the Royal Academy to support artists painting with water-based media on paper. He spoke of his pleasure in having the opportunity of having Tony Foster's work on display and introduced the guest speaker, Professor Duncan Robinson.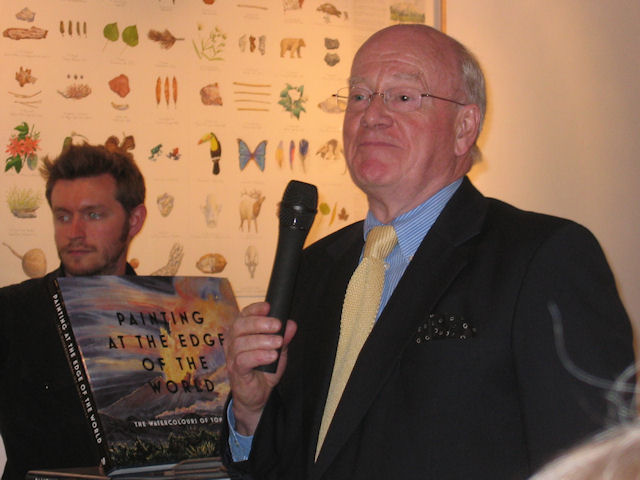 Professor Duncan Robinson spoke of Tony Foster's "unusual self-effacing approach to his work based on his intention is to promote the concept of the primacy of the subject rather than the personality of the painter, that he should faithfully record what he sees and experiences and not use artistic tricks to embellish or romanticise the work: that finding the best vantage point to paint from is worth spending much time and effort: that his task is to draw the viewer into something of what it was like to be there, sometimes for weeks: that these beautiful wildernesses are worthy of profound respect and that they should be valued and protected."
He talked of of Tony's ability to "motivate and mobilise travelling companions to help him meticulously plan and undertake arduous and sometimes risky journeys to remote and inaccessible painting sites: and then to work there painstakingly putting watercolour onto paper, sometimes in the most inhospitable of conditions"
To his works he adds natural and artificial objects picked up along the way along with diary notes that help the viewer in some measure to share his own experience and feel their own emotional response to the subject."
Tony Foster thanked Duncan Robinson, John Thirlwell and the dedicated team at the Bankside Gallery who had made such a success of hanging the pictures and promoting the exhibition.
The exhibition at Bankside Gallery in London ran until 20 July 2008 when it moved to the USA.
Book Launch in Truro
March 2008
The launch of Tony Foster's new book, Painting at the Edge of the World, The Watercolours of Tony Foster, was opened at The Royal Cornwall Museum (RCM), Truro, Cornwall, UK on 18 March 2008 by Tim Smit, Chief Executive of the Eden Project.
The exhibition launch attracted many guests from Cornwall and one couple who travelled from Peru.
The proceedings were introduced by Hilary Bracegirdle, Director of Royal Cornwall Museum.
In opening the exhibition, Tim Smit spoke of how he felt his vision of the world for the Eden Project was closely aligned with Tony's: "Tony is trying to get people to rediscover their place on the planet by seeing, by really seeing, the awesomeness of the world we live in. By going into the wildernesses of the world to spend considerable time experiencing the places where he was painting, Tony is trying to redress the imbalance caused by "dominion", not romantically, but with clear sighted wonder. He is in the tradition of the great explorers of earlier centuries and a real star."
In reply, Tony said that he "felt that much of art today was not about art so much as the artist. I am trying to put the emphasis back on the subject matter. In the case of the book, I feel that many art books are a bit difficult to engage with and I hope that with my book I've broken the mould by providing sufficient variety with his paintings,diary excerpts,expedition photographs, and related essays by prominent art historians, scientists and fellow travellers, so that the book could be opened at random and immediately enjoyed."
Watermarks exhibition launch
March 2003
The exhibition commenced with a private viewing at the Royal Albert Memorial Museum & Art Gallery, Exeter, on the evening of Friday 28 March 2003. The exhibition was opened by Duncan Robinson, Director of the Fitzwilliam Museum, Cambridge.
He suggested that, "just as John Ruskin had been passionate about painting Venice, with the result that the public had been inspired to preserve the threatened architectural heritage of the nineteenth century, so in the twenty-first century Tony Foster was passionate about painting the threatened natural heritage in the hope that people would come to celebrate it and value it more."
Tony welcomed about 200 guests, many of whom had flown from distant lands to be there.
Tony had found artefacts for a central tableau from the museum's collection. The tableau was dominated by a magnificent parrot and a display of iridescent butterflies.
In the exhibition catalogue Tony writes: "For twenty years I have drawn my inspiration from the sublime beauty of wilderness. My work is not simply concerned with describing the landscape, but is about travelling slowly, living in wild places, and about encounters with people, artefacts, flora and fauna"
After its appearance in the UK the exhibition toured the United States, showing in New York, San Francisco, Seattle and Jackson Hole.
Pictures of the exhibition